Your presence on LinkedIn matters for business or career development. The site's huge networking opportunities connect people with new jobs and clients. Networking on LinkedIn generates 277% more business leads than similar efforts on Facebook or Twitter.
Among recruiters, 90% of them use LinkedIn regularly. New survey shows that 122 million people had gotten job interviews through LinkedIn, and LinkedIn connections resulted in 35.5 million people getting hired.
To tap into the potential of LinkedIn, your profile needs to impress visitors, inspire confidence, and communicate your qualities. The top LinkedIn profiles excel in most or all of these areas:
Profile Photo
Headline
Summary
Experience
Education
Endorsements
Recommendations
Projects
Group Involvement
Publications and Articles
You can leverage the power produced by awesome LinkedIn profiles by studying profiles that stand out from the crowd. We've identified 10 professionals who have some of the best LinkedIn profiles.
As you look over the following LinkedIn profile samples, think about how you can adapt their techniques. Then, you can join the ranks of successful professionals with cool LinkedIn profiles.
Sample Linkedin Profiles
Interesting and impactful LinkedIn profile is like a strong handshake. It should display a balance of text, graphics, and user engagement.
Here, we've compiled 10 efficient LinkedIn profiles as inspiration to craft your own.
Let's start our enthralling overview!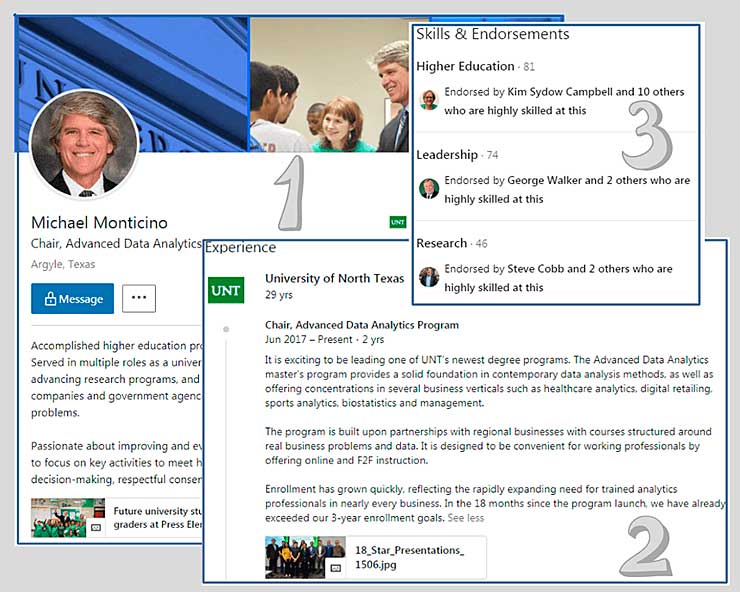 The academic program chair behind this profile makes great use of visual elements to convey a professional image.
Here are a few key takeaways to consider:
Profile photo — A professional-quality portrait photograph, which supports his image as a university administrator.
Photos in Summary and Experience — Graphic content can be added to most sections on a LinkedIn profile. The photos added to the Summary invite users to click deeper into the section. This aspect places this example among excellent LinkedIn profiles.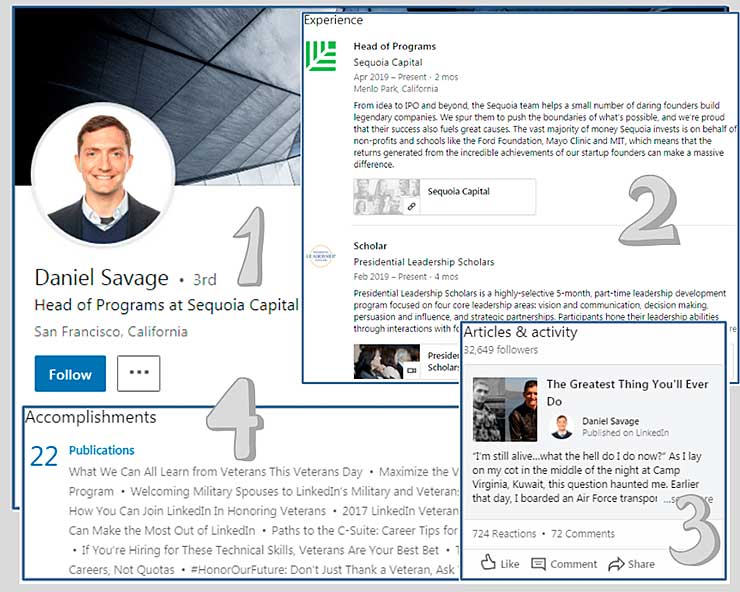 Daniel's career began helping veterans transition to civilian careers and has now transitioned to connecting entrepreneurs with capital. Although his profile picture and header lack eye-catching qualities, the strong content communicates his specialized knowledge powerfully.
Additional highlights to consider:
Followers — Over 32,000 people are following Daniel's articles and activities. His most recent article has 724 reactions and 72 comments.
Experience — This section shows the effective use of logos and images within a work experience. Daniel employs active language throughout his job histories.
Education — The use of logos for educational institutions ensures that browsers won't miss impressive schooling.
Skills and Endorsements — For the skill Strategic Partnerships, Daniel earned an enviable 95 endorsements.
Publications — Over 22 of articles have been published in outlets related to his career.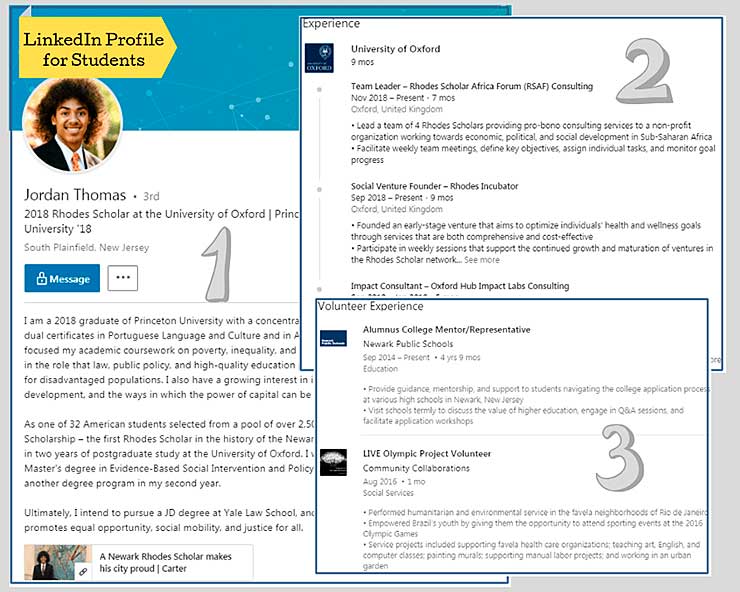 People who want to study LinkedIn profile examples for job seekers should take cues from this profile. As a recent university graduate, Jordan has built an exciting profile that shows that he's not a run-of-the-mill graduate.
Here are a few essential points to note:
Headline — The text immediately informs visitors that the profile owner is a recent Rhodes scholar.
Summary — Jordan quickly communicates his multi-lingual status, international experience, and desire to study law.

Education — As Jordan just launching a career, he understands the importance to make the Education section shine. On top of attending Oxford and Princeton, he lists several roles, positions, and internships during the school years to illustrate that he's a high achiever in any setting. Check out video material.
Volunteer Experience — Bulleted points to show off the duties at various organizations just as one would do with work experience.
Accomplishments — 11 Honors & Awards, 3 research projects.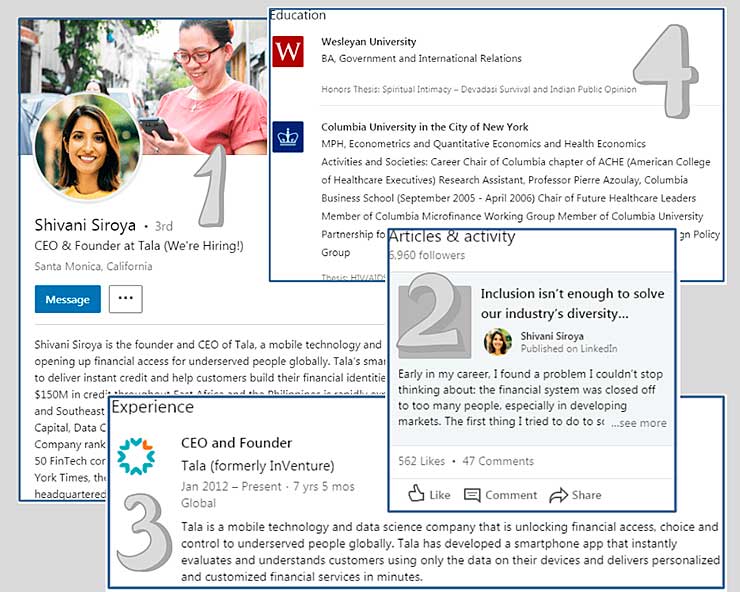 This mobile technology CEO's profile projects an authentic and warm personality. Human qualities come across as just as important as technology.
Additional highlights:
Profile Photo — Portrait-quality photo.
Article — Written article with 6K followers, 500+ likes and 47 comments. Shivany really showcasing positive engagement with her article.
Company Logos in Experience — The graphic elements quickly reveal her employment at major companies.
Education — Detailed description of the activity in the education section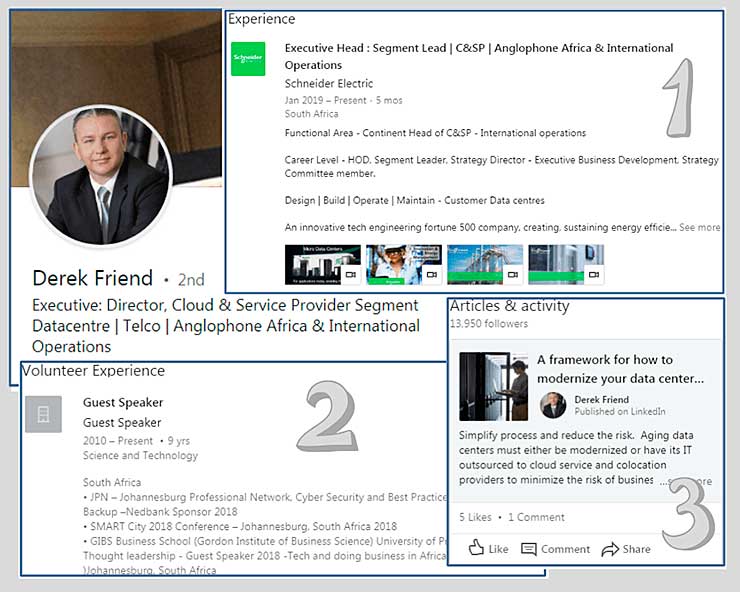 While studying LinkedIn bio examples, we must admit that Derek's LinkedIn profile stands out from the crowd due to his dedication to work. Projects around the world, especially in Africa, pack his Summary and Experience sections.
A few key takeaways:
Followers — Over 13,000 people are following his articles. His content gets attention.
Photos and Videos in Experience — These graphics enhancements improve the user experience and really encourage interested parties to dive into Derek's career.
Accomplishments — Courses, projects and an impressive number of outlined publications. This sends the message that he is always learning.
Volunteer Experience — A guest speaker at dozens of venues.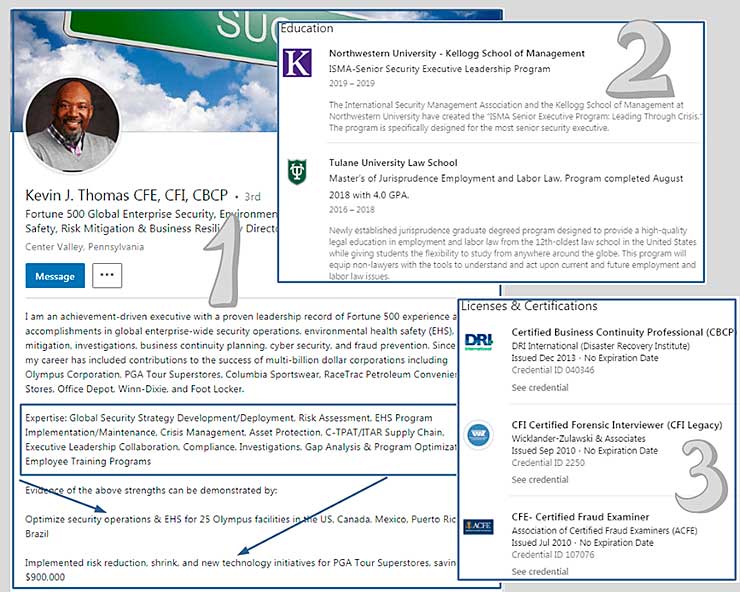 This security expert displays qualities on his profile that draw from good LinkedIn profile examples. Kevin uses strong statements of specific information.
Key highlights and best practices:
Profile Picture — He looks professional and welcoming.
Summary — Within the first sentence, the reader will learn this person's core areas of expertise.
Experience — Although lacking graphic elements, his work experience includes pertinent details and plenty of white space so that it's easy to read.
Education — Kevin went beyond simply listing his degrees. He described his course work in detail and included his grade point averages.
Certifications — These extra credentials communicate his niche areas of knowledge.
Recommendations — Kevin has earned 80 recommendations.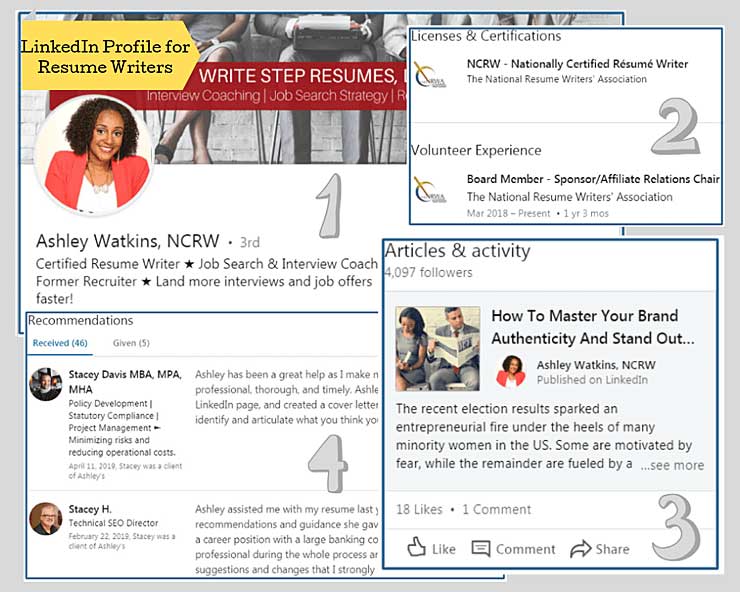 It's obvious that Ashley has an old hand at the art of being noticed. She appears friendly yet professional.
The first thing that stands out when you view Ashley's profile is a Profile and Cover Photo. Another eye catchable detail is an emoji (stars) in the Headline Description. Which creates visual excitement around her credentials and skills.
Additional elements of the LinkedIn profile:
Summary — Ashley's summary speaks directly to her target audience of "frustrated" job seekers who need help. It represents one of the best examples of LinkedIn summaries.
Experience — Bulleted experience information, highlighting key achievements, using check marks, arrows and bold dividers.
Recommendations — 46 Received recommendations from satisfied clients strengthen her marketing pitch.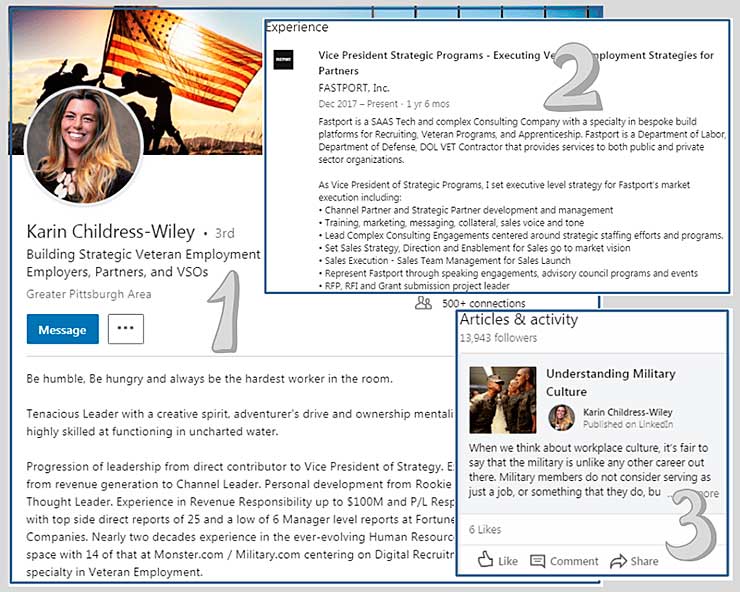 Karin's profile exhibits an outstanding use of graphics to deliver an emotional impact. Her profile picture projects enthusiasm, and the header image tells the story of transitioning from military life to a civilian career.
Here are five key takeaways:
Summary — Clear and concise information with bulleted lists. Each section has intro, achievements and final word about the company's results, mission, etc. The best professional LinkedIn profile examples always include an effective summary.
Articles — As of 2019, Karin obtained 13K followers and wrote 8 articles.
Activities — Active commenting on posts and participating in groups.
Volunteer Experience — Involvement in numerous volunteer groups.
Accomplishments — 19 projects in military and veteran areas.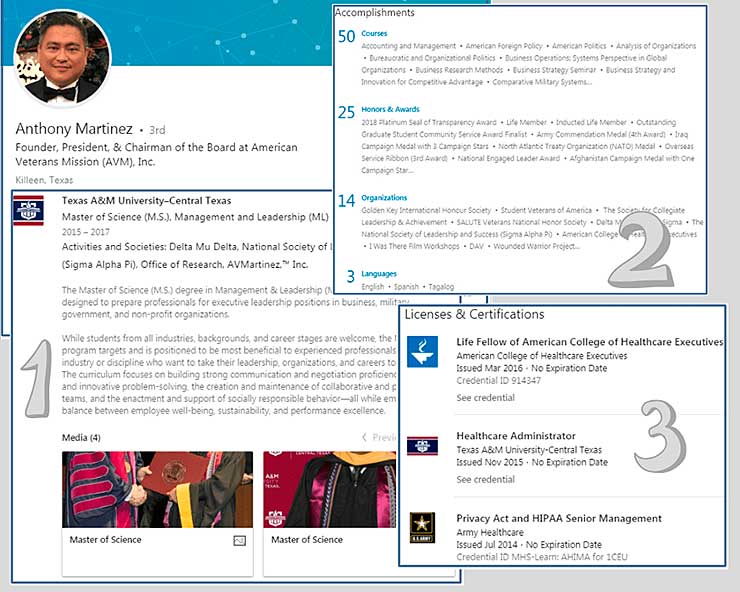 Anthony is our leader by obtaining knowledge. Just look how impressive education base he has!
By his example, Anthony proves it's never too late to learn.
A few key highlights:
Experience — A well-constructed list of professional experience with video and photo materials.
Education — Anthony increases the respectability of his credentials by immediately highlighting his extracurricular activities. These indicate that he's willing to give extra effort in demanding situations.
Accomplishment — Impressive accomplishment list with 50 completed courses and 25 obtained Honors & Awards.
Volunteer Experience — Bulleted list of volunteer activities show Anthony's willingness to assume leadership roles. He served on the board of his alumni association, mentored injured veterans, and led community outreach.
Pro Tip: In the past, people were advised to fill in the Interests section. You no longer need to know how to add interests to LinkedIn because LinkedIn now fills the section automatically. To convey elements of your personality beyond work experience, mention them at the end of your Summary, write Articles about them, or join relevant LinkedIn groups.
For more awesome job tips, check out LinkedIn Recommendation Samples
Develop a Linkedin Profile Template
Before writing a LinkedIn Summary, also known as a LinkedIn Description, you need a template to guide the efforts. Your stage in life and career goals will influence a choice.
For example, a student will need to emphasize schooling whereas a professional with 20 years of experience should emphasize accomplishments and skills.
Strategies for your template include approaches that emphasize:
Mission
Personality
Accomplishments
For some people, a blended approach would be appropriate. After deciding on the theme that works for you, list the information that will promote your goals.
YOU MAY ALSO LIKE: