LinkedIn has become a social media powerhouse in the business world. Professionals who want to land new jobs or attract clients need LinkedIn profiles that get noticed and inspire business people to make contact.
As of 2017, the site had 500 million registered users, and 260 million of them were visiting the site every month. An impressive 40% of active users go to the site every day.
Putting in the effort to create an amazing profile opens the door to lucrative opportunities. You could attract the attention of an executive who can offer you a dream job. LinkedIn is the place where most decision makers at Fortune 500 companies do research or scout talent.
Be Inspired by Our Stunning LinkedIn Profile Examples!
How to Optimize Your LinkedIn Profile

LinkedIn profile optimization is a crucial process to achieve the best results in a job hunt. Check out the best LinkedIn profile tips for job seekers. Let's start from the top of your LinkedIn Profile:
1. Customize Your URL
Do you want to catch a recruiter's eye? Make an easy-to-remember web address, called a custom URL, instead of a gibberish combination of letters and numbers. How to create a search-friendly URL?
Click the icon Me at the top of your page (from the right) and then click View profile.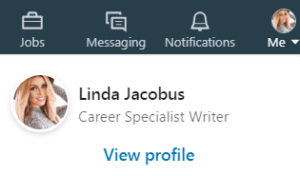 On the right rail, you'll see Edit public profile & URL.

Click Edit URL and create your new custom URL.

Click Save.
2. Headline
Every detail of your profile has the potential to advertise your value, and the headline by your name should not be overlooked. Don't simply enter your current job or basic professional label. Select a phrase that describes your special brand of expertise. Enhance good first impression by adding emojis into any text area. There are various examples of it:


Please avoid putting professional titles and certifications next to your name. The hiring manager won't be able to find your LinkedIn profile while typing your full name. Optimize LinkedIn profile for job search, make it short, instead of this:

3. Current Job Title
Don't mark yourself as unemployed!
Without a current job title, recruiters won't find you at all because they tend to perform searches based on current job titles. It's fine to enter something related to your profession and add a statement like "looking to implement a security system project in java" or "seeking for new opportunities in the field of public relations."
It's vital to use terms associated with the job that you want instead of the job that you have.
Finding the right keywords that recruiters are using involves analyzing the profiles of other successful professionals in your field to identify trends.
4. Profile Picture
Include a good-looking portrait, instead of holiday selfie or Friday night with friends.  It's your first chance to tell that you are friendly, attractive, and reliable.
Make sure your photo is "fresh", within the past few years. Don't try to look like a million dollar, make a photo, which reflects your appearance in daily life – your makeup, hairstyle, etc.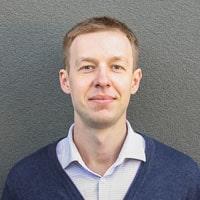 Do:
Choose a neutral background.
Smile with your eyes.
Dress the way you'd dress to work.
Make eye contact with the camera.
Show your head, neck and the top of your shoulders.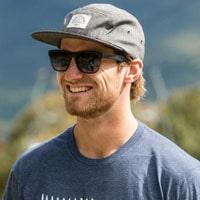 Avoid:
Distracting background.
Looking too serious.
Full-length body shot.
Sunglasses, hat.
High color brightness and saturation.
Pro Tip:Don't skip adding your LinkedIn profile picture. A recent study has shown that you can get up to 21x more profile reviews from HRs while adding an image of yourself.
5. Summary
This will probably be the first thing anyone reads about you, so it has to be outstanding. First-person writing is acceptable because you want the real you to come through.
A LinkedIn Summary is not the same as a resume summary. Their common purpose is to show off your best skills and achievements, but let's consider a few differences between them:
LinkedIn summary, in contrast to the resume summary, can reach up to 2,000 characters. Within three to five paragraphs, you should reveal your personality while showcasing your skills and accomplishments.
Unlike a resume summary, you can write a real-life success story on your LinkedIn profile. Don't simply make vague references to your responsibilities. Use numbers and facts when describing your achievements to make a greater impact on the reader.
For example, statements like "Managed a team of 17 employees and increased revenue by 12% in 3 months" provide clear details.
Include your presentations, videos, graphic design projects and partnership banners in LinkedIn summary. Get creative with relevant media materials and make your page stand out from the crowd.
Pro Tip: Make a short video-greeting of yourself. Describe in a few sentences what you do and how you can contribute to the company.

6. Experience
Bulleted points are a super trick for your resume to sort out the details. But Linked profile just a complement to your resume, so don't overdo the bullets.
Summarize (key word!) your experience in terms of actions, results, and organizational benefits.
And if you want to add some achievements using bullet points, just list 2-3 lines, that's will be fine.
A few reasons to avoid pasting your full resume bullets:
Recruiters are not going to read your full resume (a bit later).

They are just curious about how you position yourself on the market. Your Endorsements and Interests.

Too much text!

LinkedIn is, simply, a professional social network, don't copy your full resume to impress somebody.

Confidential information.

Just make sure the information you provided in the LinkedIn Experience section, cannot be misused to commit illegal activity towards your previous employer. It's totally clear, that company secret shouldn't be on your resume either, but specific mention of the information or documents about operating procedures, products and services of the company can make a difference.
How to write a good experience description:
Copy and paste the bullets from your CV to a new MS Word document.
Pick out the best points of your career and delete the rest, which is not so important.
Get the cream off the top and link the high-level details in 2-4 sentences.
Let's review an example of job experience in a resume, which was tailored for LinkedIn Profile.
Resume
Supervised 4 employees with material handling warehouse equipment while in compliance with Army Safety Standards.
Maintained $578K of military equipment, leading to 2 supply competitions with-in 1 year
Provided 100% security and accountability of $150K worth of sensitive items in a Military Arms Room resulting in 0% loss in a 3-year period
Planned, optimized, and implemented service solutions that improved the efficiency of supply chains – Predictability, costs, and visibility over 50%
Performed loading and off-loading duties in regards to receiving and distribution quickly and efficiently
LinkedIn
Supervised 4 employees, who maintained $578K of military equipment and provided 100% security of $150K worth of sensitive items in a Military Arms Room resulting in 0% loss in a 3-year period. Improved productivity of supply chains over 50%.
As you can see the difference is obvious and it worst of it. Taking the time to cut superfluous details and pick out your superior points on LinkedIn is going to make your profile to stand out from the crowd and become a dream employee for head hunters.
7. Education
Did you note that the major part of Education sections on LinkedIn looks quite boring? But it's a blue sky, open field for you to get extra points for your LinkedIn profile. Let's consider 4 important points on how to improve your LinkedIn Education section:
Add Activities and Societies
Explain what is the main focus of your field of study in the Description area
List your internships, honors or awards
Add photos from the Commencement Ceremony at the University
And here is just an idea how your LinkedIn Education section may look like: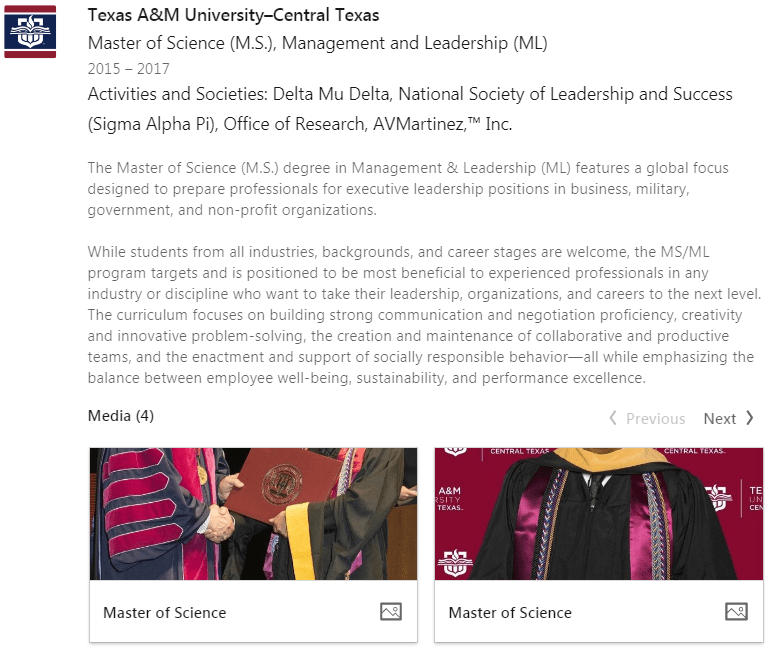 8. Only key Skills and relevant Endorsements
Skills. This part is a sweet piece of pie for recruiters. A quick analysis of your top skills gives a full picture of what you can offer for employer.
On the one hand, job seekers have a chance to showcase a wide range of proficiency. But on the other hand, the temptation to add as more skills as possible can damage your reputation.
While optimizing your LinkedIn profile, make sure your skills reflect the real abilities and talents.
Endorsements. This is the best way to confirm your skills set appreciated by the people you've worked with. As a whole LinkedIn profile, the Endorsements section require a constant update of your skills according to your career transition.
Don't be shy to ask for recommendations from reliable professionals or supervisors in your field. Be sure to personalize each request you make. But don't overdo with quantity, emphasize on the quality of testimonials.
It's better to have 2-3 recommendations from credible people instead of 10 references from your comrades or people you hardly know.
9. Don't be apathetic
Keep your profile active and updated. Follow people in your industry, join groups and get into discussions.
Publishing articles is one of the best tips for LinkedIn profile optimization. If you are looking for a super trick on how to optimize linkedin profile for recruiters, adding fresh content in the form of articles substantially increases the odds of getting profile views.
Even if readers don't contact you, they might share or comment on your articles and increase the reach of your profile.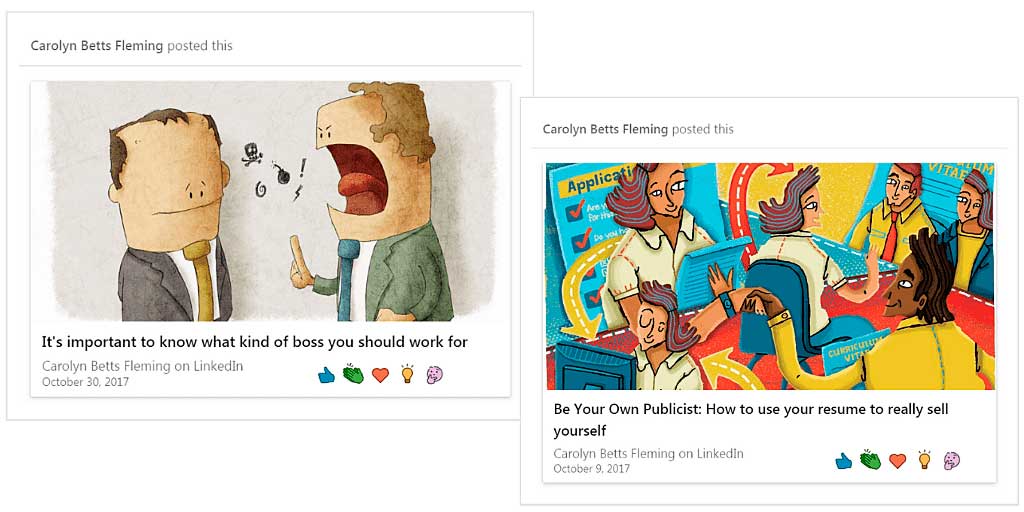 The people reading your articles will likely be in upper management because roughly 45% of article readers at LinkedIn are managers, vice presidents, or directors.
LinkedIn is a perfect place, which gives a plenty of space to grow your professional connections and explore new opportunities.
With a completed LinkedIn profile, interactive and engaging content, you'll have all chances to stand out from the crowd and get awesome results in business.
You can improve your LinkedIn profile without engaging the Linkedin profile optimization service.
Just follow these 8 tips to optimize LinkedIn profile. It's not easy to structure all the information at once, but quite achievable if you'll be persistent and attentive to details.
YOU MAY ALSO LIKE:
How to Add Your Resume to LinkedIn
How to Enable LinkedIn Resume Assistant in Word