Wondering how to tell LinkedIn you are looking for a job, hiding the signal to recruiters from the current employer? LinkedIn offers the best way to let recruiters know you're open to a new job. Adding the #OpenToWork hashtag is a powerful tool designed for users who are actively seeking new opportunities LinkedIn can offer. In other words, this is the solution to put the target-focused profiles in front of the right people, despite the open candidates having positions.
The feature #OpenToWork can get used on any desktop or mobile device, and it's currently available globally. We reveal the details of how to enable the #OpenToWork status to show up in search results any time someone looks for desired open candidates. With this step-by-step guide, you'll be able to turn your active job search on, specify the preferred location, point out types of job opportunities you're interested in for a smoother job searching process.
How to Announce You Are Looking for a Job on LinkedIn
Although #OpenToWork is not a brand-new feature, few users have a clue how to show you are looking for a job on LinkedIn. This special feature of the LinkedIn setting for recruiters shows them the talents who are engaged but not satisfied with the current job, making current employees accessible for head-hunters. It also delivers the perfect roles to job-seekers, being effective within the platform but leaving their intentions behind the scenes.
If you are not actively looking for new opportunities setting, the hidden #OpenToWork hashtag still makes your signal visible for the recruiters from large companies. No one from the company you're working for can see you applying for jobs status unless they pay for this option. It's a great tool to avoid unpleasant conversations with your boss and get better job opportunities.
You can enable and manage the #OpenToWork feature right from your profile. By completing all necessary profile information and adjusting LinkedIn settings for job seekers you can specify your career interests, set up your preferences, and broaden your reach. Here is the simple guide on how to let recruiters know you're open on LinkedIn.
Enabling #OpenToWork in 7 Steps
To explore career options on LinkedIn and get success in your job search you should be logged in and get an updated good-looking account. Before you show you're looking for a job on LinkedIn, be sure all contacts including email and cell number are correctly listed so recruiters can easily reach you.
Step #1
Tap your profile at the right top corner of your homepage.

Step #2
Tap the View profile option from a drop-down menu.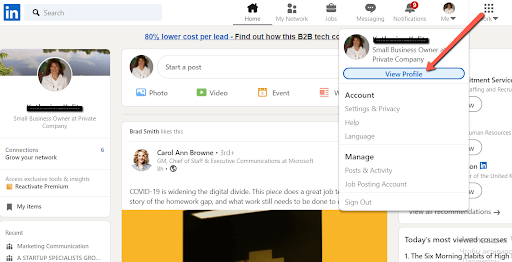 Step #3
Activate to view a larger image to get access to the option of being open to job opportunities.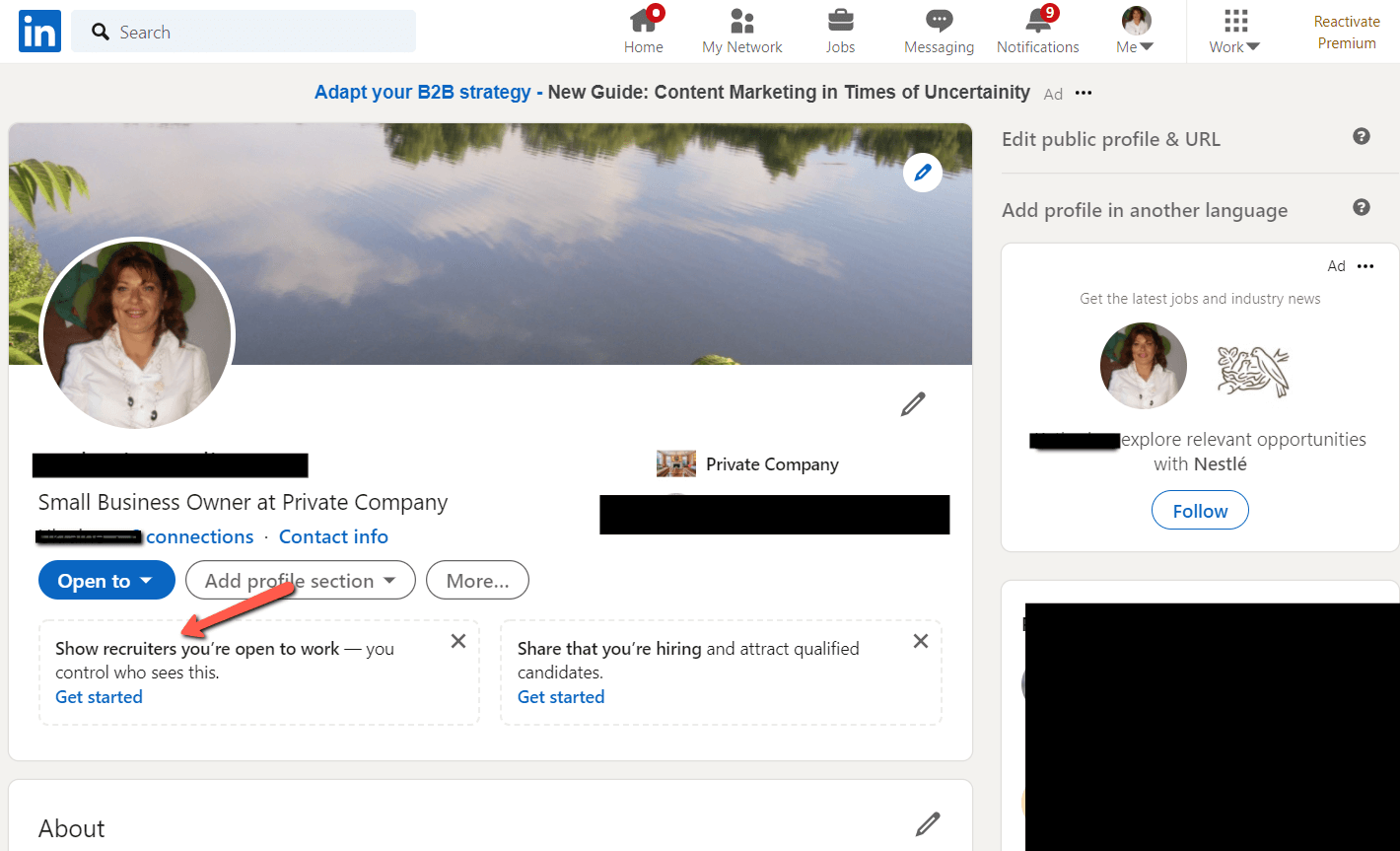 Step #4
Click the Open to button under the profile photo.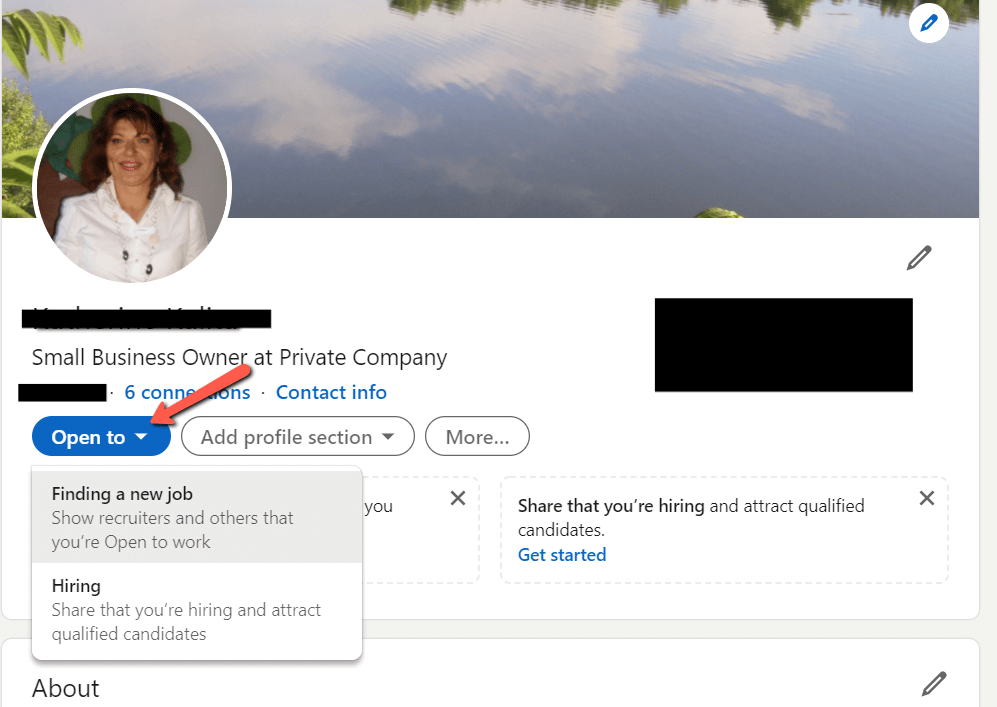 Step #5
Choose the Finding a new job option from the drop-down menu and click it.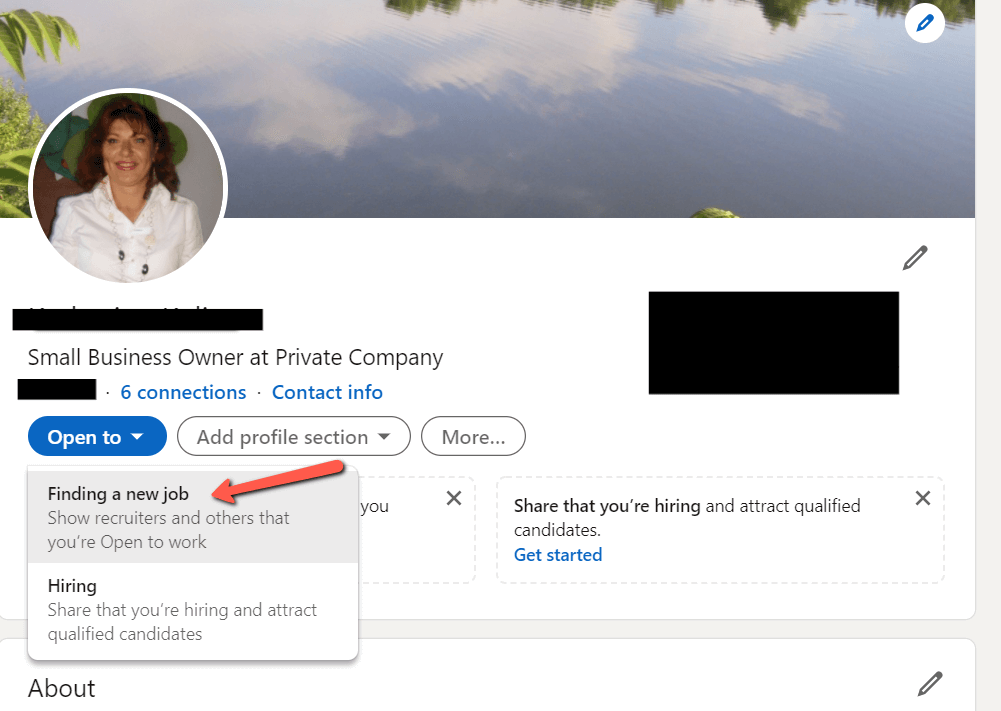 Step #6
In a pop-up window, you can add your job preferences or edit the information you previously provided.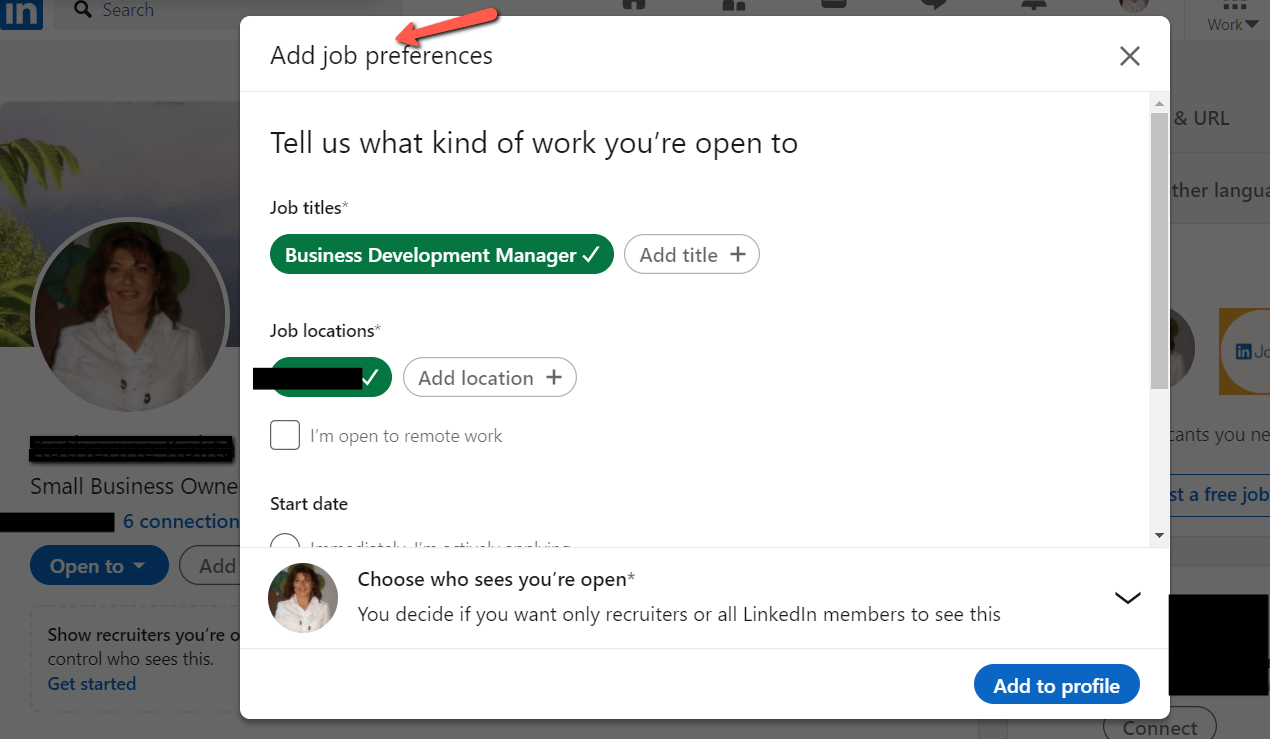 Editing Job Titles
Click the Add title box to type the desired position there. As soon as you enter the title, choose the most suitable role from the drop-down list.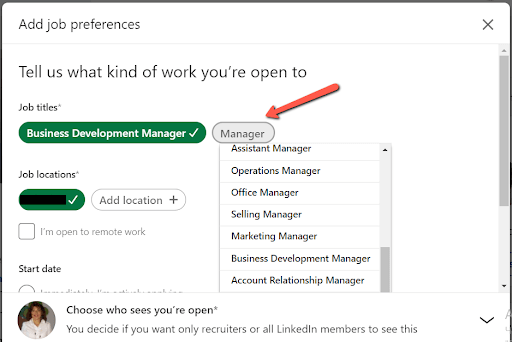 You may add up to five of the most accurate titles that you are currently seeking. There is a vast variety of options from freelance work to C-level positions that can match a candidate with a recruiter who looks to fill the relevant position.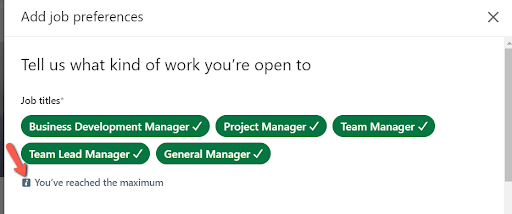 Editing Job Locations
Type in the job locations boxes the place where you would prefer to work. Mind that many recruiters search candidates by location, so you should think over the suitable place to work in advance. It's better not to use small suburbs; instead, type the nearby cities.
If you are willing to relocate, list those few cities, you want to work in. If you are looking for work within the USA or another country, just include the country in your list.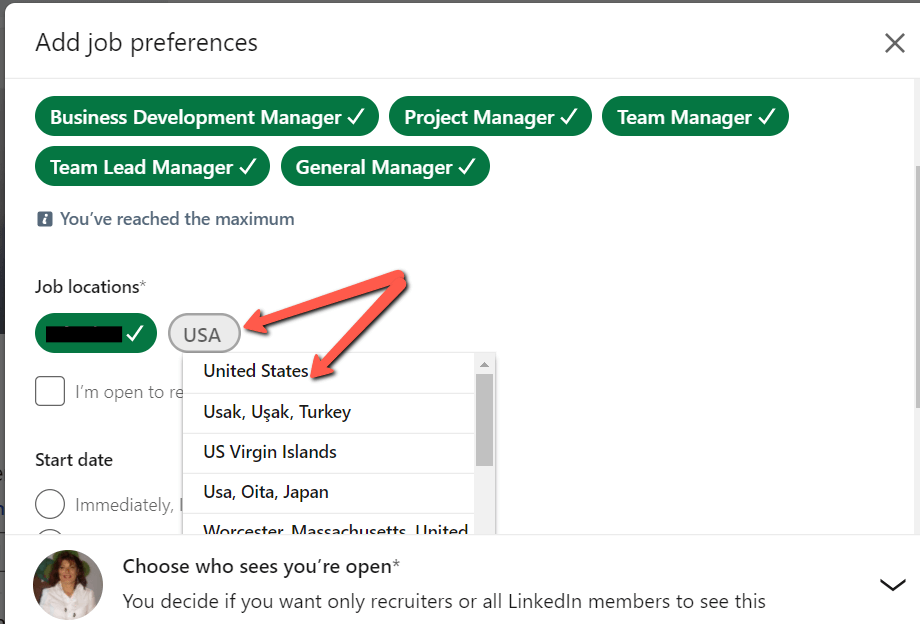 Click on the green box to remove the location and add a new one.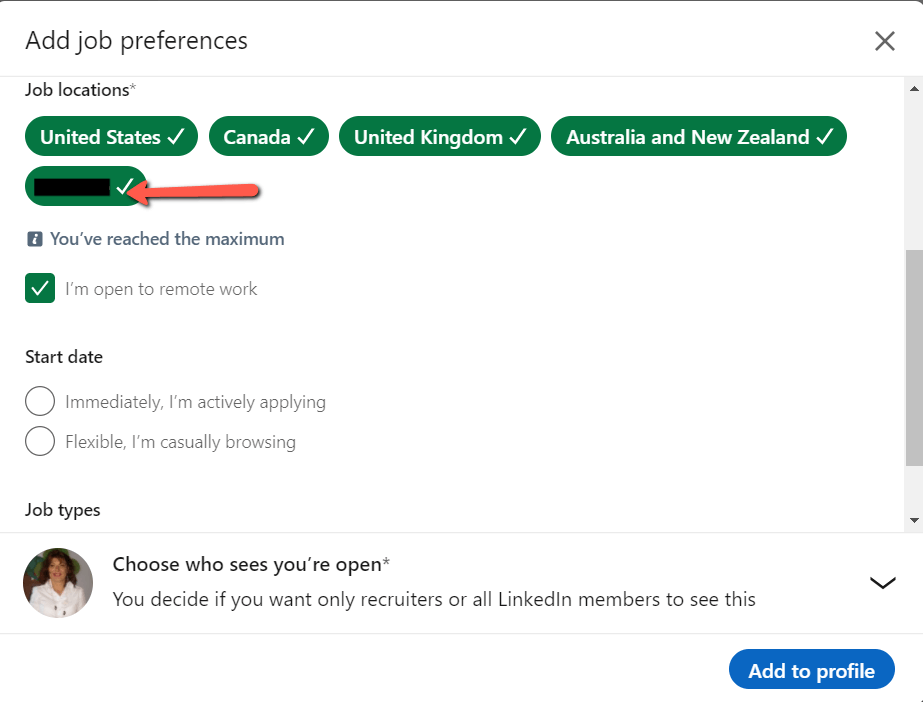 You may enter up to five specific locations. Choose the relevant ones from the drop-down menu while typing.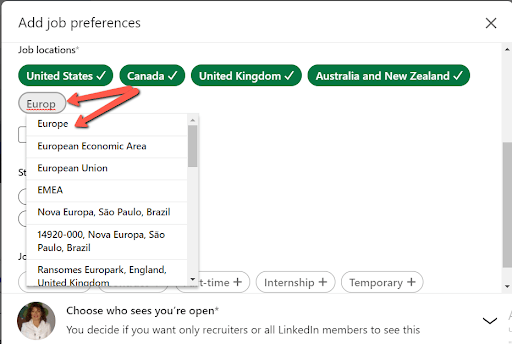 Point out with a checkmark if you're open to working remotely.

Editing Start Date
Before recruiters call, be sure to think about potential start dates. Choose one option that fits your goals.


Editing Job Types
Tap one or several desired work engagement options, based on your skills, scheduling, and convenience. Tap a green box once more to remove your choice.

Editing Preferences of Seeing You're Open
You are free to choose a range of people who should know about your active job search with a level of privacy. Expand the section Choose who sees you're open and opt for the suitable offer.
If you decide not to hide your signal for recruiters from your company, the best choice is clicking the All LinkedIn members option.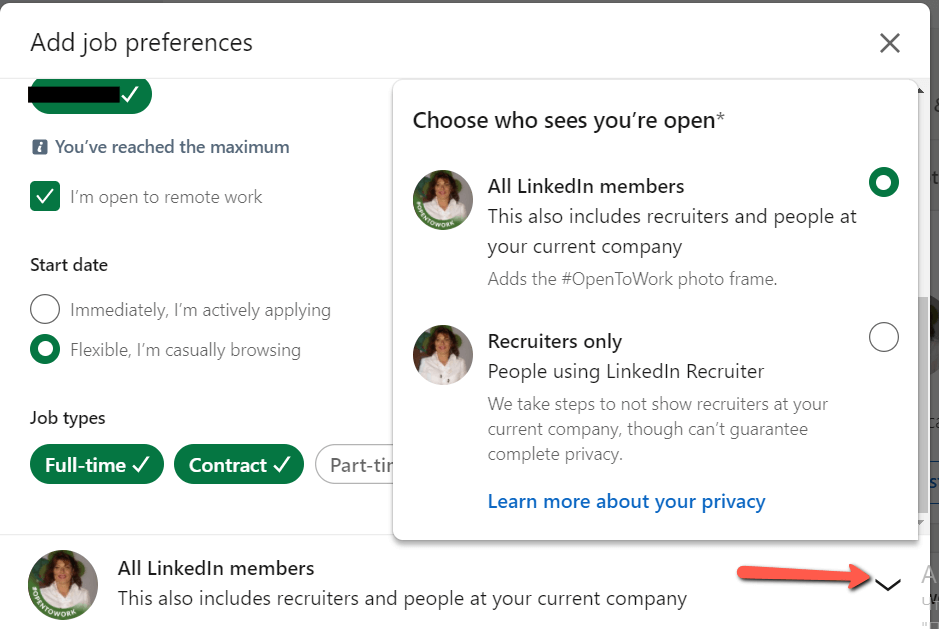 Leaving this option unchanged adds a special frame with the hashtag #OpenToWork to your current photo in the profile, announcing that you are actively searching. Your job search and preferences become visible for all LinkedIn visitors.

In case you prefer to leave your job search a private matter, change your option to 'Recruiters only'. Your eagerness to change a job can only be seen by those who pay to use the LinkedIn Recruiter service, letting recruiters know on LinkedIn that a working LinkedIn member is eager to apply for a new job.
Mind that the companies and recruiters who don't use this expensive paid subscription won't get any signal from you.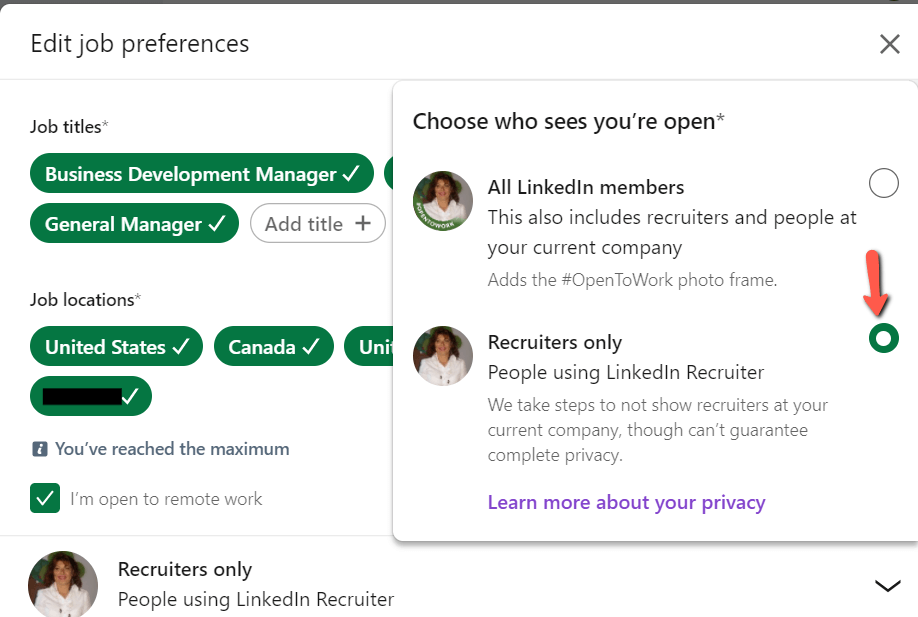 Step #7
After the information is completed press the Add to profile button and be ready to respond to recruiters' InMails.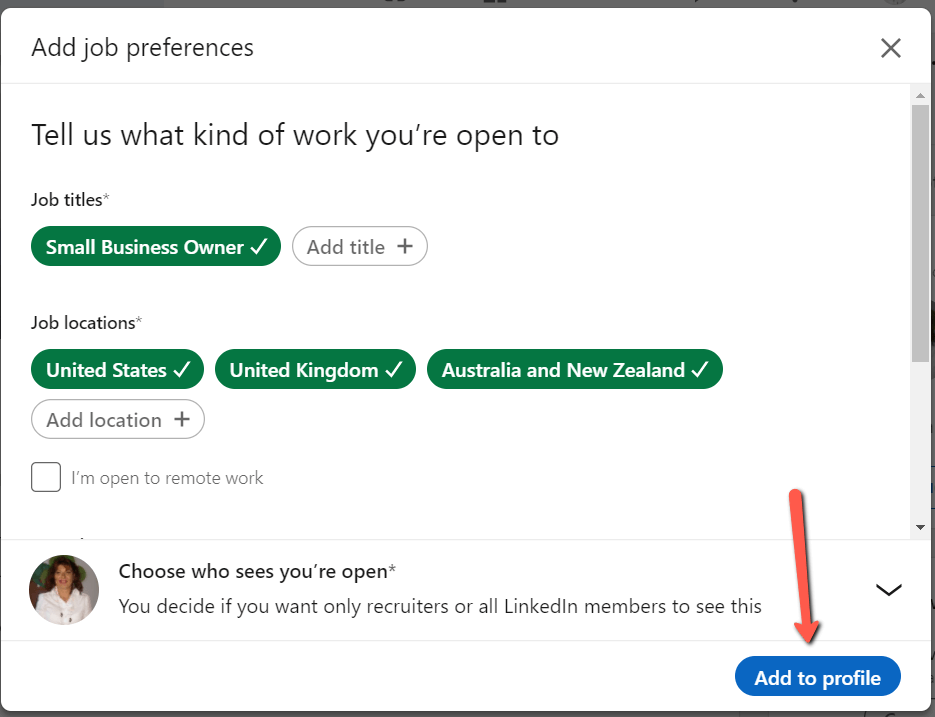 You'll get a pop-up notification about the information added to the profile. After you press the Done button to complete the process, you'll get an email notification from the LinkedIn team.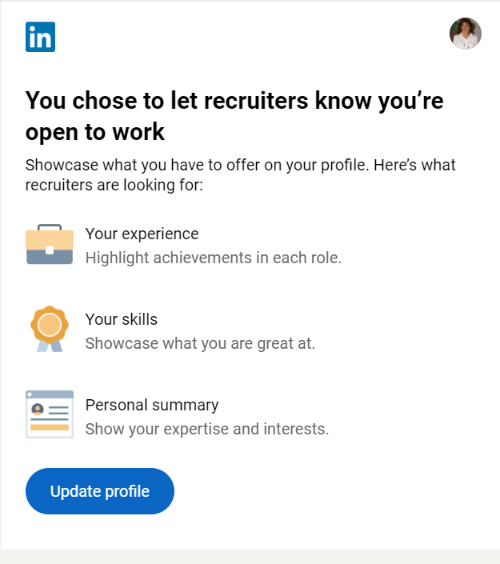 Your profile now includes an active link, containing full information about the roles you wish to apply for and the preferences.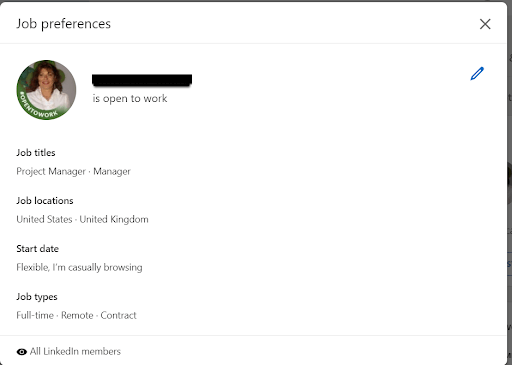 Editing the Preferences
You may change your preferences any time you need to. To edit your info repeat steps ##1-5 and click the pencil icon, edit the boxes and tap the Save button.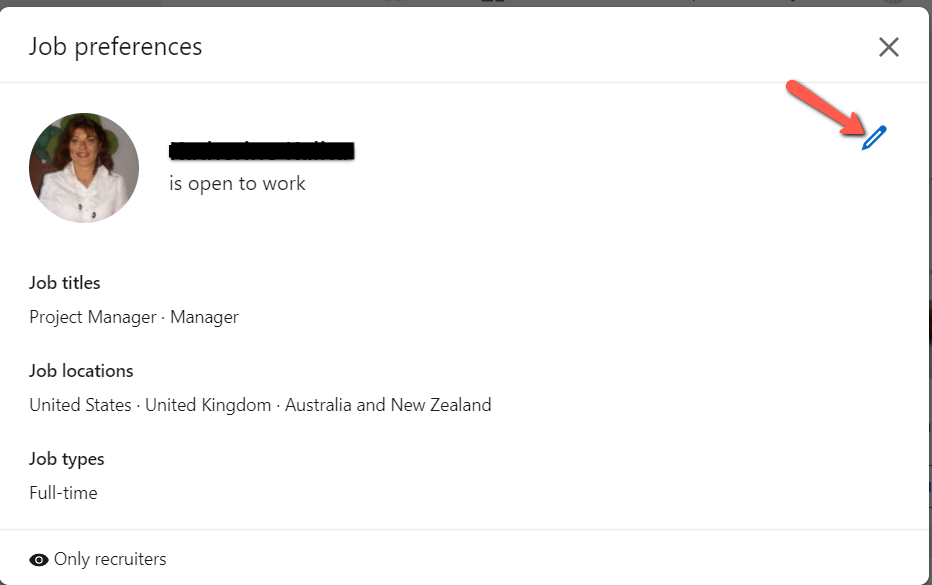 Disabling the #OpenToWork Feature
Deactivating the tool is available anytime, just follow steps #1-4 to get to the #OpenToWork box and tap the pencil icon.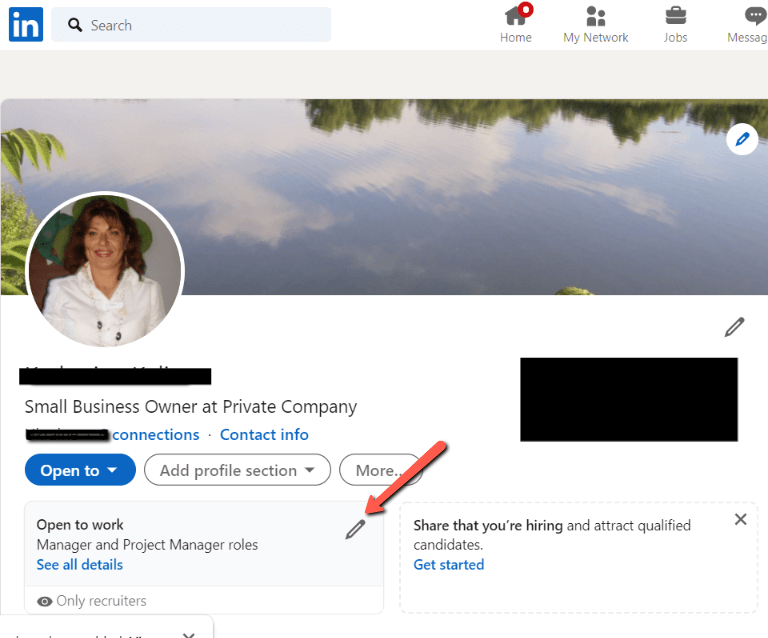 Click the Delete from profile option at the bottom of the screen.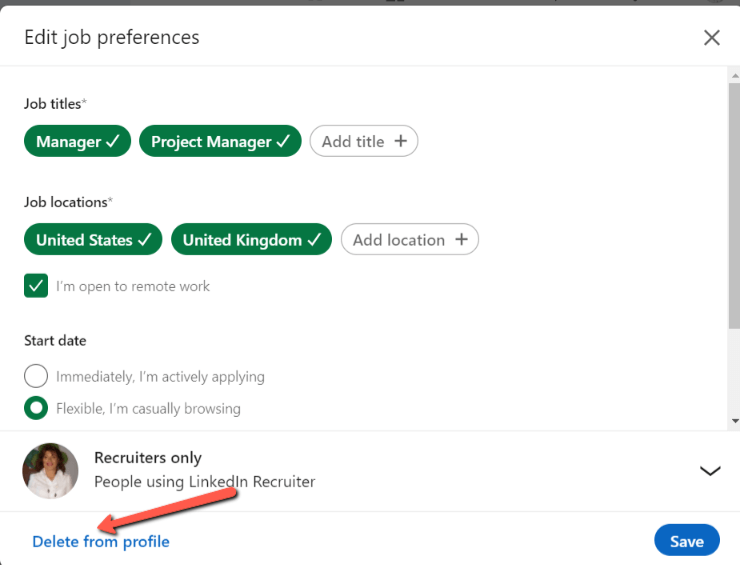 Confirm deactivation once more.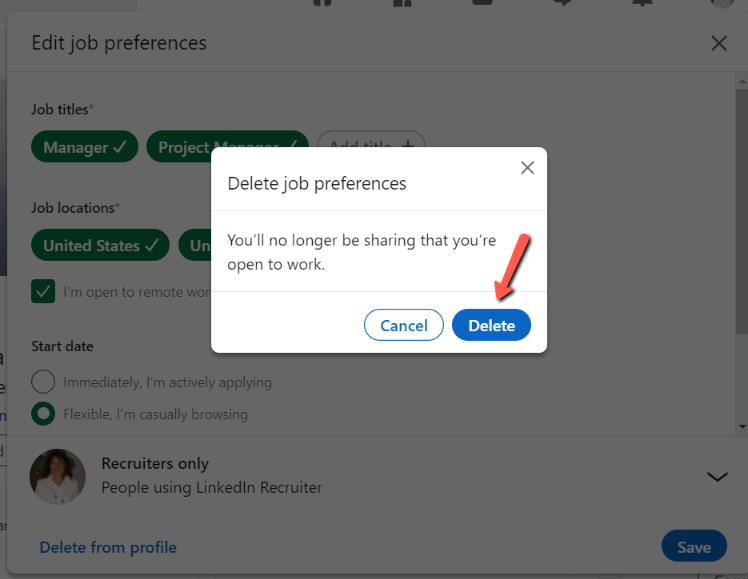 Mind, although you can re-enable this feature at any time, your previous preferences can't be saved.

The Bottom Line
With the right adjustment, #OpenToWork status turns into a powerful signal of how to say you're looking for a job on LinkedIn to recruiters. Its message displays your eagerness to get hired, increases the likelihood of hearing from a hiring professional, and connects you to those who can help with leads, advice, and support. But even if you know how to make your LinkedIn profile visible to recruiters from a small subset, you may come at the risk of someone's disclosing your boss the information about your hidden job-hunting.
If you still hesitate whether to use this feature on your LinkedIn profile, just remember that hiring pros typically prefer people who are employed. This tool is a good way to speed up job searches by attracting and leveraging recruiters who are interested in hiring for similar roles the hashtag holds. It can be an exciting addition to the LinkedIn profile for those, who are eager to get a change but are not necessarily job hunting full time, keeping the options open while already at a job.