LinkedIn might not be the number one place to help you find a job but it is definitely worth your attention as a jobseeker. With almost 600 million users of this professional networking platform, chances are high that your future employer's human resources specialist will find you there. So it's better to make sure that your LinkedIn profile is complemented with a professional photo and an up-to-date resume.
According to statistics of 2018, the network Linkedin has 303 million active monthly users, 40% of which visit the site daily. 90 million senior-level influencers and 63 million decision makers use LinkedIn.
Although your LinkedIn resume shouldn't be tailored to a specific position, it should still contain all the important details of your career history. When you've made some changes to your tailored resumes, spare a while to update your LinkedIn resume as well. The only tricky thing about updating resume on LinkedIn is the technical impossibility of modifying your existing LinkedIn resume and saving the altered document. The good news is that we've found a way to solve this problem.
Be Inspired by Our Should Your LinkedIn Profile Match Your Resume
How to Change Resume on LinkedIn
Here's how to update your resume on LinkedIn in short: you need to delete your old resume and upload a new one. Although this sounds very easy, the process itself is intricate. For your convenience, we've made a step-by-step guide that will help you cope with the task quickly and efficiently.
By the way, you can find step-by-step instructions on How to Add Resume to LinkedIn in our previous article.
To delete your old LinkedIn resume
Log in to your LinkedIn account and click the Me icon on the navigation bar.
In the drop-down menu, below your profile photo, choose View Profile.
Click the pencil icon just below your profile header. This opens the Summary section for editing.
Scroll down to the bottom of the Edit Intro pop-up window to find your old resume file and click on it.
In the new pop-up, choose Delete this media option.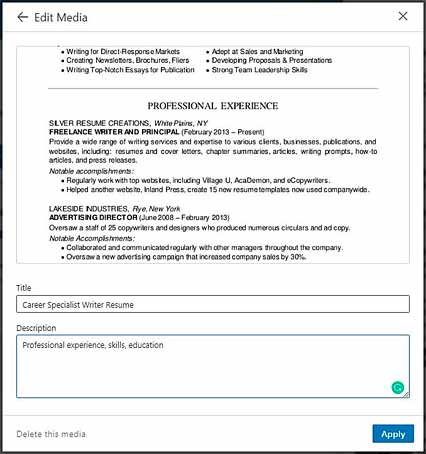 Now, you've successfully deleted your outdated resume and can start uploading a brand new one. In case you don't know how to upload a resume at LinkedIn after its redesign, here's a short guide. The steps you'll need to take are almost the same as for deleting the old resume.
Check out How to Remove Resume from LinkedIn
To upload a new resume
Click the Upload and select the file with your new resume.
Add a Title and a concise Description of the file.
Choose Apply
And then Save.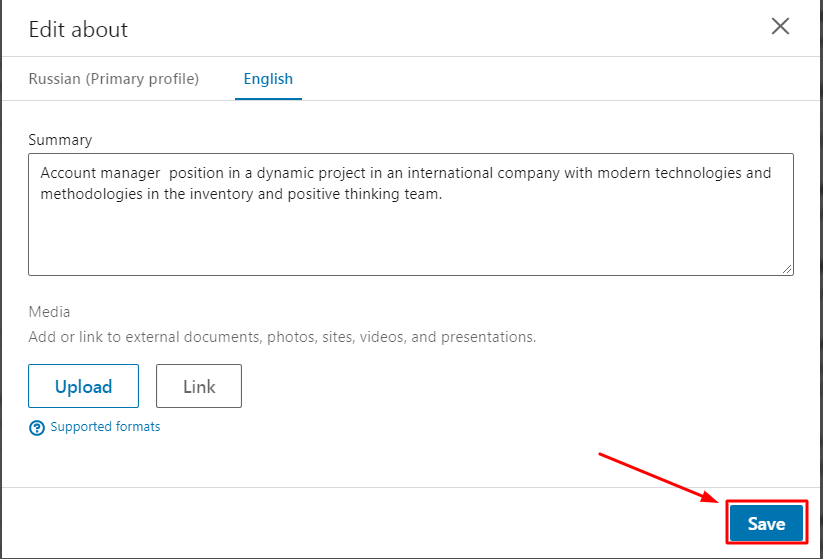 Congratulations, your new resume has been added to your LinkedIn profile! Now you know how to change your resume on LinkedIn. Although this method isn't very convenient, it is surely the only one there is.