There is a number of reasons why any professional shouldn't neglect their LinkedIn page. Writing a recommendation on LinkedIn is one of those features that make this platform absolutely invaluable. It is in many ways easier and more interesting in comparison with writing a standard letter of recommendation. Moreover, writing LinkedIn recommendation encompasses many subtle advantages for you personally. Below, we will tell how to write an excellent recommendation on LinkedIn, and how to use the power of this feature to your benefit.
Order our breathtaking Linkedin Profile Makeover Services
What Is a LinkedIn Recommendation?
A LinkedIn recommendation is a recommendation written by one of your LinkedIn connections (a colleague, business partner, customer, manager, etc.) to be displayed publicly at your LinkedIn profile page. When someone visits your LinkedIn profile, for instance, an HR specialist who received your job application, they will be able to read all of the recommendations that others have written for you. Depending on what kind of recommendations are displayed at your page, your chances of getting a new job can be either boosted or diminished.
When it comes to writing recommendations, LinkedIn gives its users substantial freedom of choice. First, you can ask your LinkedIn connection to write a recommendation for you, and they can either accept your request or decline it. Next, you can ask your connection for a revision of the recommendation if you are not satisfied with it in some way. Finally, you can choose to hide a recommendation from your profile page if you do not want others to read it.
How to Give a Recommendation on LinkedIn?
It is not complicated to find out how to give a LinkedIn recommendation in technical terms.. You need to visit the LinkedIn profile page of your 1st-degree connection, click "More…" and select "Recommend".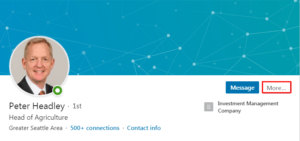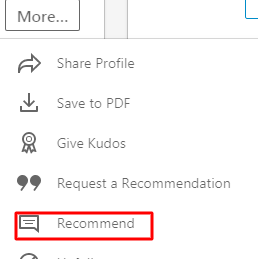 In the pop-up window, you will need to fill in the "Relationship" and "Position at the time" fields. After clicking "Next", you will be given a text field to write your recommendation in.

Click "Send" once you've finished.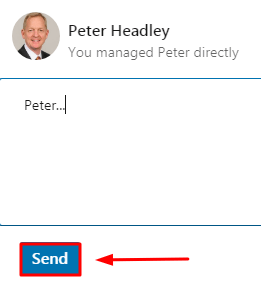 However, the most important question is how to write a good LinkedIn recommendation. You might be asking yourself whether the quality of LinkedIn recommendation writing even matters. Our answer is "Yes, and it matters to you too". Before we explain how to make a recommendation on LinkedIn, we'll say a few words on why your approach to writing is so important:
Recommendations that you write tell a lot about you. When reading a LinkedIn recommendation, you can look up the profile of the person who has written it. The way you have recommended someone and the way your recommendation has met the reality (or not) adds to your overall reputation.
LinkedIn recommendations are available for everyone, and will stay online forever. At least, as long as LinkedIn exists the way it exists now. This means that practically anyone can see what words you've chosen to describe your co-workers, ex-boss, or customers, no matter how much time has passed.
Writing recommendations for others stimulates them writing recommendations for you. And obviously, the approach you take to writing recommendations will be reflected in the quality of recommendations left about you. Of course, the essence of a recommendation is the evaluation of a person as a professional. Nonetheless, if you write someone a recommendation on LinkedIn carelessly and dully, don't expect others to leave well-written recommendations about you (or to leave them at all).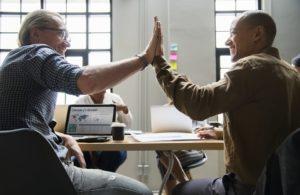 Now, you might be wondering — how do I write a recommendation on LinkedIn so that it speaks well not only about its subject but also about me? Follow these tips that will help you write a brilliant recommendation that both you and the receiver can be proud of!
Start with an attention-grabbing statement.
It should make the reader want to continue reading your recommendation till the very end. Avoid using phrases that start with "the best" and "my favorite". They are too boring and vague. Instead, adjectives like "reliable", "talented", "rare", etc. provide space for the reader's interest to continue discovering more about the subject of the recommendation.
Specify the Context of your Relationship.
LinkedIn allows writing recommendations not only for your employees but also for co-workers, project managers, customers, etc. To make the message of your recommendation clear, explain the context, in which you shared work experience with the one you are writing about. You do not need to enumerate all the tiniest details, including the full job title and company name. A short explanation of your relationship and its duration would be a valuable addition to your recommendation.
Tell about the person's biggest contribution to the company.
Here, you can give more detailed support of the statement that you began the recommendation with. You can explain how the person's work helped grow the company or why their activity stood out among other co-workers or previous employees. You can also mention the traits of the person, which helped them perform better at their position.
Add a personal insight.
The charm of LinkedIn lies in the humane touch it adds to the professional picture of a person. You can share your own impression of working with the person you are writing about. This makes your recommendation more comprehensive and realistic.
Sum-up with a powerful recommendation.
The final sentence should back up everything you've written above. It should be a short, clear, and powerful line that encapsulates your recommendation of a person as a professional.
How Long Should a LinkedIn Recommendation Be?
There are no strict requirements on how long should your LinkedIn recommendation be. However, we would recommend writing not more than a few paragraphs. Even one paragraphs might be enough if it's concise, informative, and well-written. Remember, this is not a traditional recommendation letter, and no one is demanding from you to write more than you  have to say. If you want to get a better idea of how short and powerful LinkedIn recommendations look like, we recommend reading through some samples. These best LinkedIn recommendation examples can give you inspiration for writing a good one yourself.
YOU MAY ALSO LIKE:
How do You Update your Resume on LinkedIn
How to Endorse someone on LinkedIn for a New Skill