The power of well-written LinkedIn recommendations is often underestimated by the users of this social networking platform for professionals, and for no good reason.
LinkedIn recommendations enhance the message of your LinkedIn profile. Imagine the information on your profile page to be a big jewel in a crown. Recommendations that you receive are the small shiny diamonds around the big jewel, and their role is to make the jewel look even brighter.
Great recommendation includes a story of relations between you as a recommendation's writer and a person you are writing about. It's about a personality, skills, the work or projects you've done together.
The best way to receive engaging recommendations is to write great recommendations for your LinkedIn connections.
In this article, we will take you through the steps, which will help you write a stunning recommendation whenever someone requests it from you or when you feel like leaving one for your boss, colleague, manager, or student.
To make the explanation clearer and more helpful, we will reinforce it with LinkedIn recommendation samples, which you can use as guides for your own writing.
Best LinkedIn Recommendations
When reading some great LinkedIn recommendation examples, you will notice that all of them sound fairly emotional, engaging, and unique. The last characteristic is particularly important.
If all the recommendations you read about someone sound the same, this implies that no one could find anything special to say about the person. Equally, if all the recommendations you write for others sound the same, this casts the light of carelessness on your reputation.
Nevertheless, you will be surprised to find out that all the best Linked recommendations have a certain thing in common, and you can find it in practically any well-composed LinkedIn recommendation sample.
They all have a specific structure with powerful elements, the correct combination of which creates a memorable recommendation with a strong message.
Once you learn this structure, you will be able to see it in all the persuasive LinkedIn recommendation templates below.
The following steps are a guide to writing a good LinkedIn recommendation. Each step presents an element of the structure that will make your recommendation meaningful and valuable.
Make a powerful and interesting introduction.
Your first line should be informative and attention-grabbing. This is the last moment when you want to use boring phrases like "the best". Use the following structures instead to make the reader interested in what will be said next:
"Not many people can be so efficient as…"
"I have rarely worked with professionals capable of…"
"This is the person who has become for me a synonym for…"
Explain your relationship.
In a few words, describe the context in which you have worked with the person you are writing about. This will help the reader understand the perspective on which your recommendation is based on. You can start with something like this:
"I enjoyed working with Stephen for three years in…"
"Lisa has saved many of our projects since 2017 when I hired her…"
"I have worked under the guidance of Mr. Nathan Reeves for two years, and…"
Name the strongest feature of the person as a professional.
Or the major contribution that this person made in the success of the company you worked in together. In any way, this part of the recommendation should be the core of your message. It should explain how this person stands out among others or what they do better than previous employees in their position. For instance:
"I have always been amazed by Jessica's ability to act in a highly stressful environment…"
"Daniel's level of self-organization has influenced the way our team manages…"
"William's willingness to help and share his expertise…"
Include a personal impression.
This is the moment when you can spice up your recommendation with personal emotional feedback. People reading your recommendation would want to know something about the personality that stands behind all the professional praise. Here are a few examples:
"We all appreciated the wonderful jokes he made to save a boring day."
"Maria's compassion for others is one of the reasons why we miss her so much."
"Robert could always find perfect words of motivation even for the least motivated employees."
Conclude with a solid recommendation.
Your last line should be a simple and clear recommendation. This is the logical summary of everything you've written above. For example:
"I strongly recommend Mark as an effective manager and a natural leader."
"Any employee would be lucky to work under the skilful supervision of Mr. Brian Grove."
"Lucy would become an appreciated member of any team."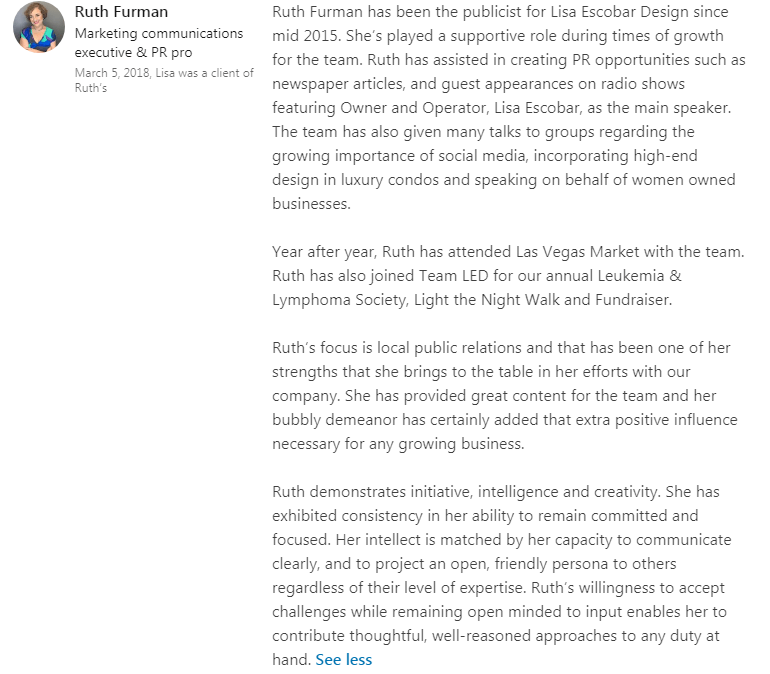 It is not hard to find a good sample LinkedIn recommendation for subordinate because this kind of recommendations is most widely met on the Internet.
However, a good LinkedIn recommendation example written for a colleague or superior can be a bit challenging to find. This is why we have prepared samples written for a manager, boss, colleague, and mentor. Let them serve you as a clear illustration of how a LinkedIn recommendation for these connections can look like.
LinkedIn Recommendation for Manager from Employee
When you write a recommendation for a manager from the employee's viewpoint, you should follow the same steps we have described above.
What can make your recommendation interesting and valuable is the description of how you felt under the charge of the manager and how this influenced the way you worked. LinkedIn recommendation examples for manager like the one below will help you get the idea.
Mr. John Stephenson is a kind of manager who will show what excellent project management should be like. I've worked under his leadership in four projects, all of which were characterized by a 20-30% increase in effectiveness in comparison with other managers. He has a unique ability to organize the working process in a way that lets employees demonstrate the full extent of their professional skills. A wonderful sense of humor in combination with deep empathy enabled him to lift my spirits in exceptionally stressful situations. As a manager, Mr. John Stephenson is a professional I strongly recommend working with.
LinkedIn Recommendation for Boss
Writing a LinkedIn recommendation for your boss is always a task that evokes many emotions.
This is the moment when you want to be super-careful when choosing the words.
A perfect balance of respect and truthfulness is what you need to write a great recommendation for your boss. Below is a sample LinkedIn recommendation for boss that can give you some inspiration for your own writing.
Mr. Gabriel Smith is a rare example of an effective and helpful supervisor. I enjoyed working under his guidance for three years. Thanks to his supervision, I learned practically everything I know now about sales. He possesses a powerful combination of expert knowledge and innate leadership abilities. His outgoing yet firm approach to handling conflicts in the team is worthy to be praised. I recommend Mr. John Smith as a supervisor who can not only increase sales but also promote the personal and professional growth of team members.
LinkedIn Recommendation Sample for Colleague
Recommending a colleague on LinkedIn might be a bit easier psychologically since you don't feel the stress of writing about a superior. This doesn't mean, however, that your style of writing can be too informal.
You should remember that your LinkedIn recommendation can potentially act as an additional reason for accepting or refusing your colleague with a job offer. Here is one of the great example LinkedIn recommendations for colleague:
Michael is a person who is capable of turning the process of cooperation into an engaging win-win competition. We worked together on several projects in the course of the last two years. Michael's professionalism and healthy perfectionism always motivated me to do my own part of the job better. Not once did he raise the motivation of the whole team with his energetic and adventurous approach to solving problems. I highly recommend Michael as a professional programmer whose work in the team makes other team members strive for better results.
LinkedIn Recommendation for Mentor
When you recommend someone as a mentor, the focus of your recommendation should be about what you learned from the person and how valuable this cooperation was for you.
At the same time, do not forget to build your recommendation following the steps described above. Here is a LinkedIn recommendation example written for mentor:
Richard has proved to be both a talented technician and a dedicated mentor. We collaborated on a project back in 2018. In this cooperation, Richard demonstrated a deep knowledge of his field and a natural ability to share his expertise in a pleasant and comprehensible manner. Although our collaboration lasted for a few weeks only, I have learned from him more than I could ever expect. His patience for my tricky questions is something I will always value. I strongly recommend Richard as a professional that you can learn a lot from.
Following our recommendations, you will be able to write wonderful recommendations each time the need arises.
YOU MAY ALSO LIKE:
Where to Add Resume on LinkedIn
How Do I Update my Resume on LinkedIn